Toro Bravo Copper Exploration Camp in the Ecuadorian Jungle | Campamento de Exploración para Proyecto en la Selva Ecuatoriana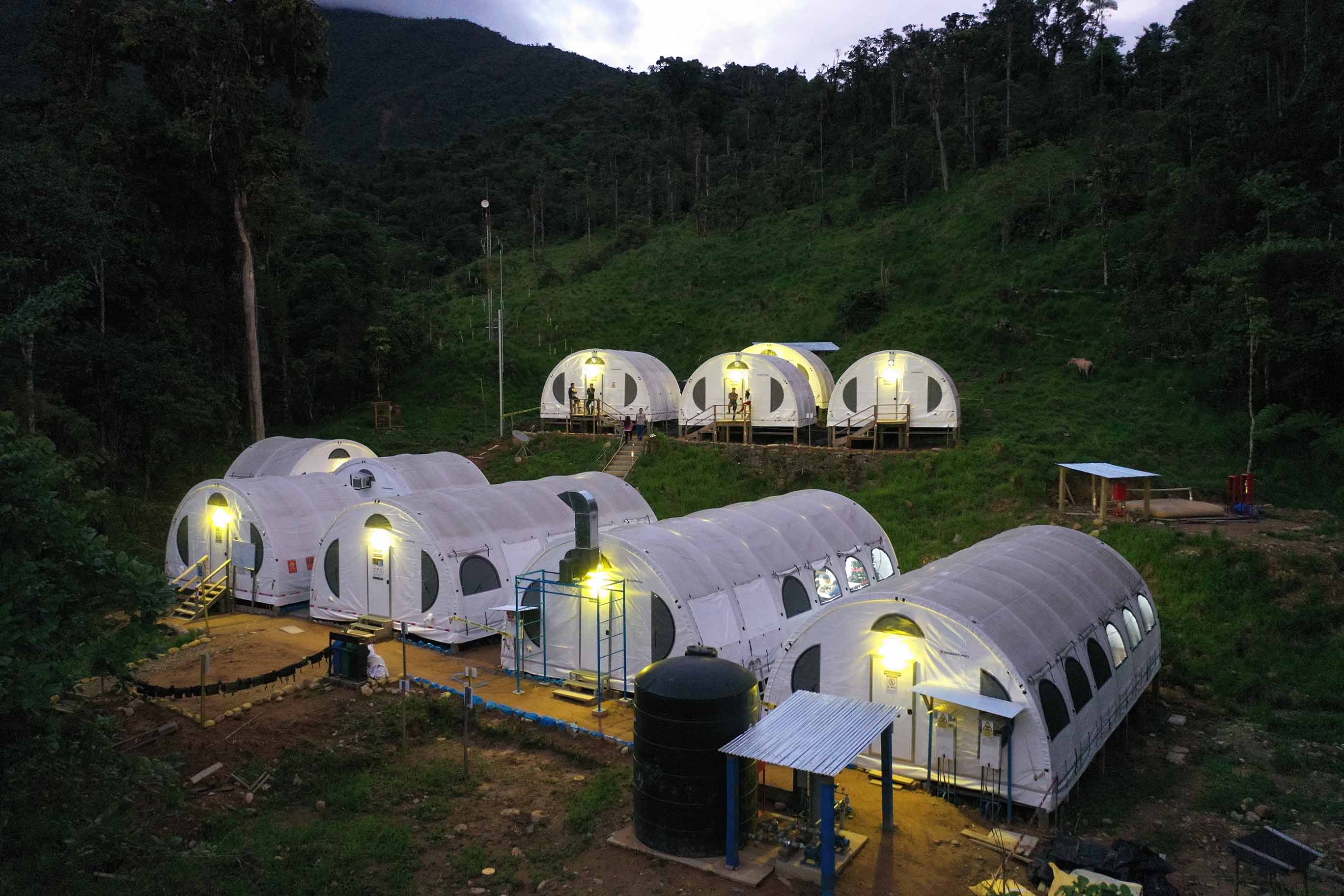 Toro Bravo Copper Exploration Camp in the Ecuadorian Jungle

This 24-person turnkey camp is close to Yantzaza town (southern Ecuador), surrounded by lush forests and dangerous terrain and is often referred by the Ecuador geologists and local indigenous people as "Toro Bravo" (Brave Bull). The Weatherhaven shelters sought to replace an old camp used by the client's explorers team, with a new camp including shelters for dorms, offices, dining, kitchen, laundry, infirmary, storage and ablutions, as well as external electrical and sanitary reticulation, water treatment, sewage filtration, lightning protection, gas piping and a firefighting system. Weather conditions such as extreme rain was an impediment, but no challenge for the Weatherhaven team.
Campamento de Exploración para Proyecto en la Selva Ecuatoriana
Este campamento llave en mano para 24 personas se encuentra en una zona cerca de la ciudad de Yantzaza (sur de Ecuador), rodeada de frondosos bosques y terrenos peligrosos, y a la que los geólogos Ecuatorianos y los indígenas locales lo denominan "Toro Bravo". Los albergues Weatherhaven llegaron para reemplazar un antiguo campamento usado anteriormente por el equipo de exploradores del cliente, por un nuevo campamento que incluye albergues para dormitorios, oficinas, comedor, cocina, lavandería, enfermería, almacén y baños, así como redes exteriores eléctrica y sanitaria, tratamiento de agua, filtración de aguas residuales, protección contra tormenta, red de gas y sistema de extinción de incendios. Las condiciones climáticas, como la lluvia extrema y el desafiante camino de trocha, no fueron un impedimento para el equipo de Weatherhaven.